How To Hide The Knots on Lace Wigs Without Bleaching?
    In order to make the wig more natural, some girls will bleach the knots to hide them before they install a wig. But it's hard and quite a waste of time for a beginner to bleach the knot.
    UWigs will share with you how to hide the knots on your lace wigs without bleaching them. If you are a wig beginner and don't know how to bleach knots well or you just wanna hurry to go out sometimes, you could try to use this method. It is really beginner-friendly and quick.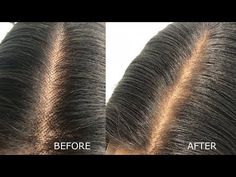 You need to use a liquid foundation to brush the lace first and you're gonna proceed with using a powder. And go on as your usual. Cut the lace jagged like a zigzag motion which could make the closure looks more natural. Use your mousse and comb the hair as you usually. Next, define your part. Make sure you get an angle brush and make sure you pinch it very skinny. The part is a skinny line you don't want it to be wide open and it leaves you with makeup all over your hair. Once you put the makeup on the part you're gonna go ahead and get a comb and just comb the hair.
    The above is the way to hide the knots, is it super easy? Hope this method could help when you are installing a lace wig.
---