Are T Part Lace Wigs Worth It?
    If you are new to wigs or you've just been under a rock for the past year headband wigs blew up last year. Laces became very scarce due to COVID-19, wig wholesalers were not supplied with it, so they need to come up with a solution since they had no lace.  Thus T part lace wigs were born, which use less lace but can also achieve the same effect as the lace front wigs. If you love the convenience of 13x4 lace or full lace wig but have no access to get it, UWigs will introduce the T part wigs to you, the following is detailed information of the T part lace wigs.
What Is a T Part Lace Wig?
    For a T part lace wig, the lace is basically in the shape of a T, there is a piece of lace from ear to ear on the edges, same as lace front wig, but there is no enough lace area at the back, only has 1-inch wide lace in the middle of the parting space.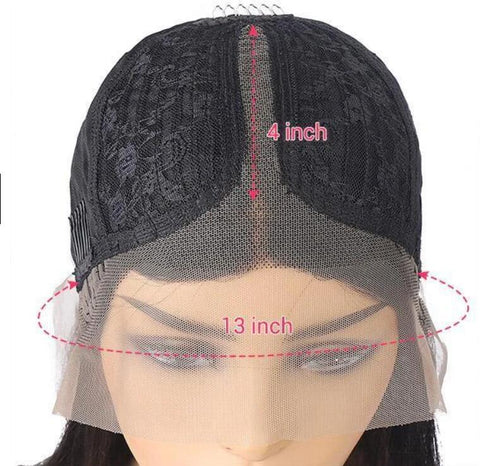 Reasons for choosing T part lace wigs
The T part lace wigs look just like a 13x4 wig or a full lace wig, the lace along the hairline is the same as the lace frontal, so it can also give you the same natural hairline as the lace front wigs.
There is not a lot of lace on the front of a T part lace wig, so it has no requirement to do a lot of work before wearing a T part lace wig, we wouldn't have to do as much plucking.
It is convenient and easy to slay a T part lace wigs, even beginners can easily slay it down at home. T part lace wigs give you the most convenience. When it comes to getting out the door in a hurry, I'm pretty sure you're going to love this wig.
As we all know that a lace wig with a large area lace part will be more expensive, since there is less lace on the T part lace wigs, so it is much more affordable.
The T part lace wig is versatile, we can tie it up into a ponytail, a bun, or any other hairstyles.
T part lace wig will also be great if you want to wear it behind the hairline, just because of the way it's made. When you get to the ear tab ear and want to make sure there is no extra hanging over, you just need to cut it if there is and then push it behind the ear. But if you do not want to wear it behind your hairline, take the time to create some edges. You don't have to worry about bleaching the knot and customization.
Who are not suitable for the T part lace wigs?
    There are a lot of pros of the T part lace wigs, but it also has a con that can not be ignored. It has no large piece of lace at the back so it just can be the middle part. Therefore, the T part lace wigs are not suited for someone who doesn't like the middle part and wants free parts.
    In a word, the T part lace wig is highly cost-effective, if you can accept the middle part, this would be a wise choice.
---